Child and Adolescent Therapy
Child-and-Adolescent-Therapy
Child-adolescent-therapy can help the child feel more at peace. No parent has a baby with the intention of providing a difficult environment for their child. Unfortunately because of parental issues, children's temperament and family dynamic growing up without psychological issues is nearly impossible is nearly impossible. .

Some childhood or adolescent problems begin through the process of  development. From birth,  biological predispositions, gifts and challenges are present. Babies brains change at an rapid pace sensing. By the end of the first year of life a baby has grown to be a toddle exploring the wonders of the world and environment with very little judgement or impulse control. This can be exhausting for parents.Child-Adolescent-Therapy can be helpful for evaluation and treatment.
 Helpful Thought !
When your child repeats behaviors that are difficult and you feel like pulling your hair out. If you can try not to judge but wonder why your child is acting or reacting. Sometimes if you take some guessses even young children will tell you what they are feeling or thinking about.
Play Therapy
Young children communicate and release their thoughts and feelings differently than adults. Children often play out their problems either using their own creations or just by playing a simple game. A therapist can learn from the way in which the child plays the game.

Child and Adolescent Therapy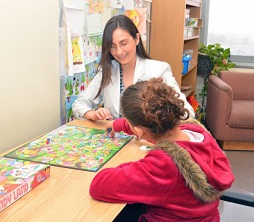 Treatment for children and adolescents can involve a whole team of people. I participate in a varieties of interventions given the needs of the child and the parents permission. Some of these treatment methods include:
Talk Therapy- Children and especially adolescents often prefer to talk with someone outside of their family or social circle. They want to be understood and feel safe not to be judged. My job is to help them to express feelings and understand reasons for behavior.
Play Therapy
Family Therapy- Families can be complicated. Each member has his/her needs temperament and usually fulfills a role in the family. Sometimes one child is brought to therapy and in the literature is called the identified patient. The child or adolescent that is the identified patient is often acting out problems in the dynamic of the entire family.
Divorced or Blended Families- Often children need to come to sessions with each set of parents separately.
School Problems- In providing aid to the parents and advocacy for the child I provide a wide range of services. These include school observations, attending and providing input for Individual Educational Plan Meetings. Communicating with teacher, counselor and any other member of the school to help benefit the child.
 Helping parents find the best school placement that fits the learning style, needs and behaviors the child exhibits.
Home or School Visits by therapist can assist in gaining further information regarding difficulties children are experiencing.
Book Review



Adele Faber is an internationally acclaimed, award-winning expert on adult-child communication.She has written a must read for any parent. She has utilized the research 0f years of study on child development.She uses concrete examples and helps parents identify triggers. The book can really help you talk to your kids to help all of you feel less stressed 
Product Review
| | | |
| --- | --- | --- |
| MAXTID Baby's Weighted Blanket Reversible Heavy Sleep Blankets Hush Warmed Blanket Gifts for Boy 2lbs(Black 36"x48") Weighted Blankets are incredible for some of us who have difficulty settling down. As a adult user of this product it has helped me sleep many nights when feeling anxious. I would imagine for a toddler this may very well help with sleep issues On Amazon this blanket has 4.7 out of 5 stars    3,542 ratings. I have used mine for so long I need a new one | | |
| | | |
| | | |
| | | |
Please Contact Us For Help with Your Child
For more information about relationships between parent and children See Our Website for Parents
Reduce your anxiety while driving your infant in the car.  Shynerk Baby Car Mirror, Safety Car Seat Mirror for Rear Facing Infant with Wide Crystal Clear View, Shatterproof, Fully Assembled, Crash Tested and Certified. Over 36,000 ratings on Amazon resulting in a 4.8 star recommendation! This can ease the mind of any new parent.